New Creation Ministries 2006, Page, Arizona:
Lake Powell: The New Creation
    The Martin family joined Jeff and Karen Vaughn in Page, Arizona for the New Creation Ministries Conference. This conference was titled
Lake Powell: The New Creation
-- one of the more creative titles for a Christian conference. The theme highlighted the role of God's creation in reflecting God's covenant. Lake Powell was an image for the transformation of our lives in Christ. This was an enjoyable conference in the desert Southwest. Attendees had plenty of free time to enjoy Lake Powell and area attractions. You can see more about this conference as well as more pictures at the
New Creation Ministries website
.
    I knew when my family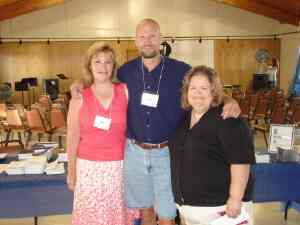 arrived at the hotel and each of my children had their own personal "goodies" bag that this was going to be a conference to remember! It wasn't five minutes later when the nerf footballs began flying to and fro in the room. Thanks to NCMI for all of the preparation and service your efforts represent. This was a truly refreshing and uplifting time for our entire family. Good things are happening in God's kingdom.
    Another special detail about this conference in July, 2006, is that it was the first time that Tim Martin and Jeff Vaughn were able to meet in person. After working on the book project together informally for many years, this was a memorable time. We also hammered out strategy for the future of the project and built many relationships among other like-minded and sincere Christians. Page, Arizona was awesome! 
New Creation Ministries International 2006 Photo Album